Inside you will find:
Slavegirl Listings including free torture galleries and BDSM videos

Faces of Pain - special feature on the facial expressions of pain

Japanese Bastinado - Asian BDSM and Foot Punishments

NEW Amateur BDSM Features - Kinky Emma & Miss Chaos Tortured

Outdoor Needle Pain Feature - Emily Sharpe & Blonde Chaos Pierced

Extreme BDSM guides and stories of torments and punishment

NEW Prisoner Painsluts - Erotic Torture Of Female Prisoners

Kinky ressources and guides to help you find more BDSM/Torture
Recent Painsluts Features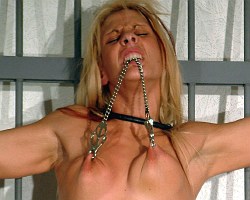 Extreme Female Prisoner Torture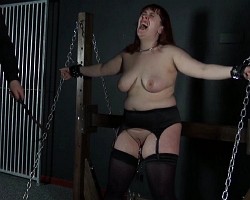 Amateur Slavesluts Breast Whipping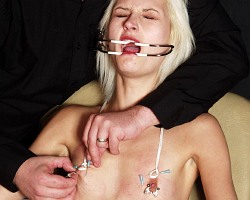 Nipple Needle Torture of Blonde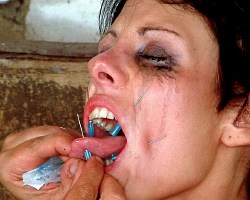 English painslut tortured with needles
Come Inside Painsluts for more extreme female torture feature videos
To some slavegirls pure pain is a pleasure in itself. To others
the challenge of climbing a giant mountain of pain gives
an undescribeable kick. Others again drift deep into
subspace and float through the pleasure and pain. But
whatever the motivation. Painsluts is all about the
extreme lifestyle painslaves who needs severe amounts of
pain to get sexual pleasure. Dont be afraid. Its all about the
joy of extreme pain and erotic torture. Pain lovers only.
We strive to provide you with unique female slave videos
full of pain and erotic torture, screaming and crying in intense
S/M sessions. We focus closely on the faces of pain of suffering
slavegirls taken right to the outer edges of their limits
Consenting adults can find a wide range of erotic torture of
willing female slavegirls inside. Featured in the painslut specials and
the faces of pain S/M special. Dig into the kinky stories and painslut
blogs. Not least the informative BD&SM painslut articles
about methods of inflicting pain, masochists who enjoy the
torments and the love of pain itself. Pure masochism.
The pain sluts love the erotic torture as you will see in
free bdsm videos and extreme kinky bondage and
sm picture galleries. Dig into the pain slave profiles.
The sado maso library full of psycholical sadism and masochism
Dont be a stranger to the world of bdsm and sado masochism. Get in contact and contribute your amateur pain material. Your interesting ressources on pleasure and pain. Suggestions for dedicated pain slave specials.
Below you will find the regular entrance to Painsluts in standard english.

Warning Adult Content: Sexually Explicit Material

This web site contains sexually orientated adult images and
is intended only to be viewed by those of 18 year and over.
If you are not allowed to view extreme adult content in your area and/or you are offended by explicit and extreme BDSM material. Please exit this site immediately. All models featured are above 18 years of age. Everyone enjoy participating in BDSM activities willingly. If you dont enjoy watching them - click the exit link.

Enter Painsluts